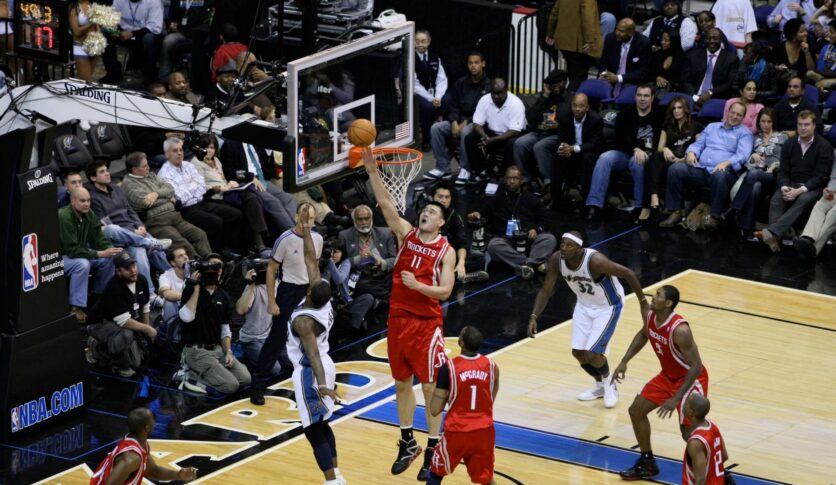 In the world of basketball, size matters. So get ready to be amazed as we run down the list of the tallest players in NBA history with their inspiring stories and incredible stats.
For basketball fans, the NBA has always been a place for high-flying dunks and incredible feats of athleticism. But aside from all that, one thing has always come to mind when talking about the NBA—height!
To many of us, it's almost fascinating to marvel at how high some of these basketball players can reach. Height is an advantage on the court. In fact, the average height of NBA players today is 6-foot-6.74 inches.
In this blog post, we'll be discussing the five tallest players in NBA history. It's time for us to look up and appreciate those towering titans who have stood above all others!
5. Yao Ming – 7'6″ (2.29m)
| | | | |
| --- | --- | --- | --- |
| Games Played | Points | Rebounds | Blocks |
| 486 | 19 | 9.2 | 1.9 |
Yao Ming is a former Chinese basketball player. He played as a center for the Houston Rockets in the NBA for nine years from 2002 to 2011. During his career, he was an 8-time NBA All-Star. The Rockets retired his No. 11 jersey in 2017, making him one of the most iconic players in the history of the franchise.
Yao's height of 7'6″ (2.29m) made him a force to be reckoned with on the court. The center used his size and strength to dominate the paint and score at will. He was also an excellent rebounder and shot blocker, making him a valuable asset to any team he played for.
Besides his success on the court, Yao was also an ambassador for the game of basketball in China and helped popularize the sport in his home country. In 2016, he was inducted into the Naismith Memorial Basketball Hall of Fame.
4. Shawn Bradley – 7'6″ (2.29m)
| | | | |
| --- | --- | --- | --- |
| Games Played | Points | Rebounds | Blocks |
| 832 | 8.1 | 6.3 | 2.5 |
Shawn Bradley is a retired German-born American basketball player. He earned the nickname "the Stormin' Mormon". Bradley played in the NBA for many seasons, starting in 1993 and ending in 2005. During his career, he was a center for the Philadelphia 76ers, the New Jersey Nets, and the Dallas Mavericks.
Bradley was highly sought after by teams when he first entered the NBA. In fact, he was the second pick in the first round of the 1993 NBA draft, selected by the 76ers. During the 1996-97 NBA season, Bradley made the most blocks per game by averaging 3.4. Over the course of his career, he was known for his defensive abilities and averaged an impressive 2.5 blocks per game.
Despite his height, Bradley was able to move around the court with ease. He was also a great team player and highly respected by his teammates and coaches.
3. Tacko Fall – 7'6″ (2.29m)
| | | | |
| --- | --- | --- | --- |
| Games Played | Points | Rebounds | Blocks |
| 37 | 2.2 | 2.4 | 0.6 |
Tacko Fall, the 7ft 5in center from Dakar, Senegal, is one of the tallest players in NBA history, tied for second place with Manute Bol.
Fall has played for two different NBA teams, the Boston Celtics and the Cleveland Cavaliers, but has only started in one of his 40 games. Currently, this Senegalese center plays for the Xinjiang Flying Tigers in China.
Let's hope something even bigger is yet to come as we eagerly await to see what Fall does next!
2. Manute Bol – 7'6″ (2.29m)
| | | | |
| --- | --- | --- | --- |
| Games Played | Points | Rebounds | Blocks |
| 624 | 2.6 | 4.2 | 3.3 |
Manute Bol was a Sudanese professional basketball player. He played as a center for the Washington Bullets, Miami Heat, Philadelphia 76ers, and Golden State Warriors.
Bol was an exceptional defender and ranks second in NBA history for blocked shots at 3.3 per game. He was recognized for his defensive prowess when he made the NBA All-Defensive Second Team in 1986. Bol was also the NBA blocks leader in 1986 and 1989.
Apart from basketball, Bol was also known for his philanthropic work. He established the Ring True Foundation in 2001 to help improve the lives of Sudanese refugees. The center also donated a significant part of his earnings to charitable causes.
1. Gheorghe Mureșan – 7'7″ in (2.31 m)
| | | | |
| --- | --- | --- | --- |
| Games Played | Points | Rebounds | Blocks |
| 307 | 9.8 | 6.4 | 1.5 |
Gheorghe Mureșan is the tallest NBA player in history on this list. The former basketball star is originally from Romania. He is best known for his time playing as a center for the Washington Bullets and New Jersey Nets.
In recognition of his skill and dedication, Mureșan won the NBA Most Improved Player award in 1995-96. The Romanian was also the NBA Field Goal Percentage leader in 1996 and 1997. After leaving the NBA in 2000, Mureșan returned to France to play for Pau-Orthez and helped lead the team to win the French League championship.
"File:Yao Ming (3048974129).jpg" by Keith Allison from Owings Mills, USA is licensed under CC BY-SA 2.0.