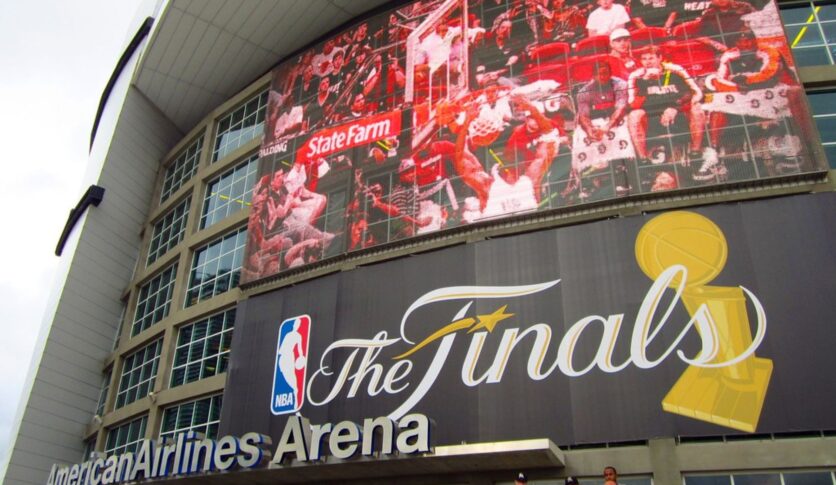 We're ranked the top five NBA teams without a Championship based on the number of times they've reached the Finals. Who will come out on top? Join us and find out!
For several decades, the National Basketball Association (NBA) has captured the hearts and minds of basketball fanatics around the globe. With its high-flying dunks and thrilling buzzer-beaters, and fierce rivalries, the league has rose like no other. Many clubs have risen to greatness. and etch their names in the annals of history. Yet, amidst the glittering array of champions, there are 10 franchises that have yet to taste the sweet nectar of victory. Some of them are surprising, others not so much. In this article, we delve into the fascinating tales of the top five NBA teams without a Championship. We based this list on the number of times they've made the NBA Finals.
5. Indiana Pacers – 1 Final (2000)
In the vast realm of NBA battles, there are tales of triumph and heartbreak. Take the Indiana Pacers, for instance. They had Reggie Miller and Rik Smits take them to the NBA Finals in 2000. The Pacers had one last hurdle to overcome in the Los Angeles Lakers. Unfortunately, the formidable duo of Shaq and Kobe Bryant proved too hot to handle, as Indiana went out in six games.
Fast forward to the Paul George era, the Pacers showed glimpses of promise, but fell short. They lost to the star-studded Miami Heat in the 2013 and 2014 Eastern Conference Finals. Now, as we look at the current state of affairs in Indiana, that elusive championship seems a distant dream, almost a mirage on the horizon. Can they rewrite their destiny? It seems like a long shot, but hey, stranger things have happened in the world of basketball.
4. Brooklyn Nets – 2 Finals (2002 & 2003)
Some of the biggest talents have plied their trade in the twin city of New York, but didn't deliver. Among those players include Kevin Durant, Kyrie Irving, and James Harden. To this day though, the Brooklyn Nets are still empty-handed.
Under their previous guise, New Jersey Nets, they made back-to-back Finals trips in 2002 and 2003. But even with a prime Jason Kidd, they were powerless to stop the Los Angeles Lakers and San Antonio Spurs. A Shaquille O'Neal-led LA swept them in 2002, before Tim Duncan and the Spurs beat them in six games a year later.
3. Orlando Magic – 2 Finals (1995 & 2009)
Orlando never had much luck when it came to their big men. Shaquille O'Neal and Dwight Howard are two of the most dominant centers in NBA history. They each played in Florida at the height of their youth, but couldn't reach the Championship buzz. Orlando reached the NBA Finals twice with both players, first with Shaq in 1995 and then with Howard in 2009.
Shaq left in his prime to join the Lakers and went on to win three straight titles. Howard took a leave out of Shaq's book in 2013 when he traded Orlando for LA, winning his first ring seven years later.
2. Utah Jazz – 2 Finals (1997 & 1998)
Oh, the 1990s, where their Utah Jazz and other worthy adversaries found themselves pitted against the insurmountable force that was Michael Jordan. The Jazz had the iconic duo of Karl Malone and John Stockton and made the Finals twice, in 1997 and 1998, but still lost. The Jordan-led Chicago Bulls proved too hot to handle, besting Utah in six games each time.
The closest Utah has come to Championship since then was in 2007. Back then, the Jazz reached the Eastern Conference Finals, but lost in five games to San Antonio. If Utah wants to rekindle the championship fire, a seismic upheaval might be necessary. It's a daunting task, but remember, in the realm of basketball, the realm of dreams, anything is possible.
1. Phoenix Suns – 3 Finals (1976, 1993, 2021)
In our list of NBA teams without a Championship, the Phoenix Suns are the unluckiest of them all. Make no mistake about it. Their history is rife with tantalizing "what ifs" and missed opportunities. They made the Finals three times (1976, 1993, 2021), but simply couldn't get over that one crucial last hurdle.
What makes this even more shocking is when you consider the players they had. Charles Barkley and Steve Nash are just a few that spring to mind. Now, with the formidable Kevin Durant, a two-time champion, on the roster, will the stars finally align? Or will Phoenix's championship dreams remain tantalizingly out of reach? Only time will tell.
"NBA Finals" by Paolo Rosa is licensed under CC BY-NC-ND 2.0.