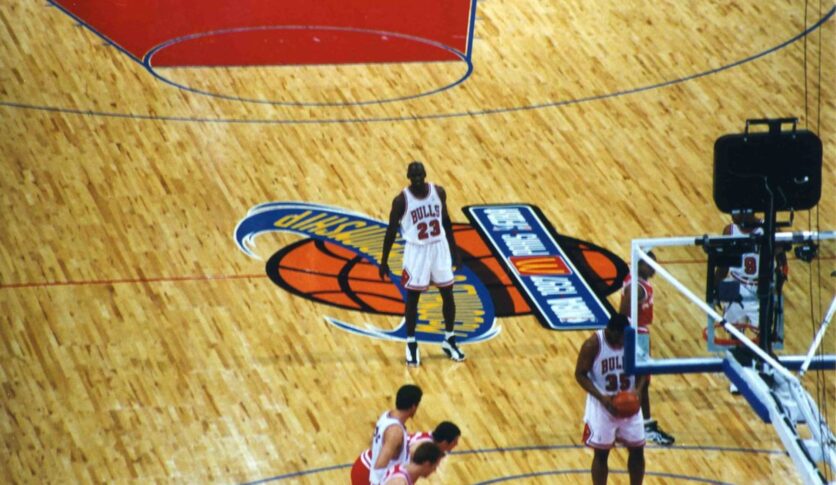 Hold on to your seats as we embark on a thrilling journey through time, exploring the lives of the Top 5 Most Famous MVPs in NBA history.
The coveted MVP title, short for Most Valuable Player, stands as the pinnacle of individual achievement. It recognizes those who have dominated the court and left an indelible mark on their teams. In this riveting journey through time, we delve into the lives of the Top 5 Most Famous MVPs in NBA history. We explore their unparalleled skills, their awe-inspiring contributions, and their profound impacts. These basketball gods have transcended the game. They've left an enduring legacy that inspires generations to dream big and reach for greatness.
5. Bill Russell – 5 MVPs
Back in an era where giants roamed the hardwood, none was greater than Bill Russell. With an illustrious career spanning from the late '50s to the '60s, Russell's impact was nothing short of revolutionary. He was a defensive maestro and shot-blocking virtuoso that redefined the role of the center.
Russell famously guided the Boston Celtics to an unprecedented 11 NBA championships, a record yet to be equaled. The center won the MVP five times as a result, showcasing his sheer dominance on the court. But Russell was more than just a player; he was a symbol of strength and resilience. He battled racism and broke barriers in a league that was far from racially inclusive at the time. His legacy extends far beyond the trophies and records; it is a legacy of courage and triumph.
4. Magic Johnson – 3 MVPs
Magic Johnson was a maestro of the point guard position and a magician on the hardwood. With a smile that could light up the entire arena, Magic's charisma was only surpassed by his awe-inspiring skills on the court. His name became synonymous with flashy, no-look passes that left everybody spellbound.
It was no wonder Johnson earned not one, not two, but three well-deserved MVP awards. Beyond his magical prowess with the ball, Magic's rivalry with Larry Bird in the '80s took the NBA to new heights. His legacy, though, extends far beyond the court. In 1991, he bravely announced his HIV diagnosis, becoming a beacon of strength and hope in the fight against the disease.
3. Kareem Abdul-Jabbar – 6 MVPs
Kareem Abdul-Jabbar is a living basketball legend whose skyhook shot became a thing of beauty and an unstoppable force on the court. With a two-decade-long career, Kareem's impact on the game of basketball was transformative. Standing at an imposing 7 feet 2 inches, he towered above his opponents, and his footwork and finesse were simply mesmerizing.
Kareem's dominance was epitomized by his unprecedented six MVP awards. Yet, beyond the statistical achievements, Kareem's presence in the game was a lesson in humility and intellect. He was a scholar-athlete, well-spoken and socially conscious, unafraid to use his platform to advocate for justice and civil rights. His impact on and off the court makes him most famous MVPs of all time.
2. LeBron James – 4 MVPs
LeBron James is a basketball prodigy who has redefined greatness on the hardwood. Standing 6 feet 9 inches tall, with a combination of strength, speed, and skill rarely seen in a single player, LeBron is a once-in-a-lifetime talent. From the moment he stepped onto the NBA stage straight out of high school, he captured the world's attention with his jaw-dropping dunks and uncanny court vision.
Nicknamed "King James," LeBron has lived up to the title, ruling over the league with an iron fist and a golden touch. The crown jewel in his illustrious career is the four MVP awards he has claimed. Yet, LeBron's impact extends far beyond his on-court prowess. He is a leader, a philanthropist, and a role model for millions. He uses his platform to speak out on social issues and make a tangible difference in communities worldwide.
1. Michael Jordan – 5 MVPs
Michael Jordan, the man who soared through the air and defied gravity like no other. From his early days at the University of North Carolina to his transcendent NBA career, MJ's journey was one of relentless determination and unparalleled talent. His grace, athleticism, and killer instinct on the court were second to none.
A six-time NBA champion, Jordan's prowess earned him an astounding five MVP awards. His iconic "Air Jordan" sneakers became a cultural phenomenon. They symbolize not just the sport but a way of life for millions of fans worldwide. But Jordan wasn't just a player; he was a global superstar, a brand, and an inspiration to countless aspiring athletes who sought to "Be Like Mike." His unforgettable duels with legendary rivals, clutch game-winners, and the mesmerizing "flu game" have all become part of basketball folklore.
"Michael Jordan @ Parigi 1997 (fuckmcdonalds championship)" by Strifu is licensed under CC BY-NC-SA 2.0.