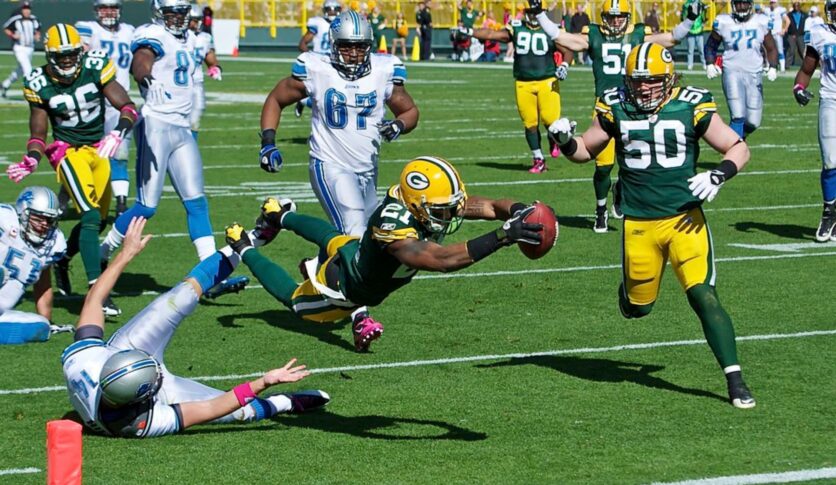 We take a trip down memory lane to celebrate the incredible impact of the five greatest cornerbacks of all time.
In the adrenaline-fueled realm of American football, there exists a select group of players. These are men whose mere presence on the field strikes fear into the hearts of opposing offenses. They are the cornerbacks, the guardians of the aerial assault, and the masters of the one-on-one showdowns with wide receivers.
These exceptional athletes have mesmerized fans and rivals alike with their otherworldly talents. Through their remarkable careers, they have not only etched their names in the record books but also transformed the way the game is played. So, without further ado, let us relive the five greatest cornerbacks of all time.
5. Champ Bailey
In the realm of cornerback excellence, one name that shines as bright as a supernova is Champ Bailey. Throughout a remarkable 15-year career, Bailey epitomized the art of coverage with grace and tenacity. His unique ability to lock down the league's most dangerous receivers earned him the moniker "Champ".
The list of Bailey's accolades is as extensive as it is impressive. The former cornerback had twelve Pro Bowl selections and three First-Team All-Pro honors. One of his most memorable feats was his tenure with the Denver Broncos. He played a pivotal role in guiding the team to multiple playoff appearances and finished as the 2006 Interceptions leader.
4. Charles Woodson
Charles Woodson epitomized greatness in the world of cornerbacks. His ability to read plays and predict the quarterback's intentions made him a constant threat in pass coverage. Woodson's exceptional ball skills translated into a remarkable 65 career interceptions. 11 of them resulted in touchdowns, a testament to his game-changing impact. What truly distinguished him, however, was his adaptability on the field. He transitioned from cornerback to safety in the later stages of his career and maintained his elite level.
The former Green Bay Packers star's pursuit of perfection and relentless work ethic earned him many accolades. Among them were nine Pro Bowl nods and the prestigious 2009 NFL Defensive Player of the Year prize.
3. Mel Blount
Mel Blount redefined the cornerback position with his imposing physicality and unparalleled skills. Standing at an imposing 6 feet 3 inches tall, Blount possessed an intimidating presence on the field. He was a trailblazer in press coverage. He jammed receivers at the line of scrimmage, disrupted their routes, and threw them off their rhythm. His dominance prompted the NFL to introduce the "Mel Blount Rule" in 1978. This restricted the contact a cornerback could make with a receiver beyond five yards from the line of scrimmage.
Throughout his illustrious 14-year career with the Pittsburgh Steelers, Blount made 57 career interceptions. The 1975 Defensive Player of the Year earned five Pro Bowl nods and two First-Team All-Pro selections. He was also an integral part of the Steelers' famed "Steel Curtain" defense that won four Super Bowls in the 1970s.
2. Rod Woodson
When it comes to versatile brilliance in the realm of cornerbacks, Rod Woodson was in a class of his own. Throughout his illustrious career, Woodson defied the conventions of his position. He displayed an uncanny ability to excel as both a cornerback and a safety. His chameleon-like skills allowed him to seamlessly transition between positions.
As a cornerback, Woodson's coverage skills were unparalleled. His 71 career interceptions stand as a testament to his mastery of the art of reading quarterbacks. This led him to eleven Pro Bowl selections, six First-Team All-Pro nods, and the prestigious NFL Defensive Player of the Year award in 1993. Woodson played for the Pittsburgh Steelers, San Francisco 49ers, Baltimore Ravens, and Oakland Raiders. He won his sole Super Bowl title with the Ravens in 2000.
1. Deion Sanders
In the pantheon of cornerbacks, there is one name that shines brighter than the rest. That is the electrifying Deion "Prime Time" Sanders. His speed was legendary. He even had the unique ability to effortlessly blanket some of the most explosive wide receivers of his era. Quarterbacks would think twice before throwing in his direction. Sanders was not just an elite defender though. He was a versatile playmaker, one who made an impact on special teams and offense as well.
The accolades poured in, with eight Pro Bowl selections and a Defensive Player of the Year prize. Sanders made 53 career interceptions and won the Super Bowl twice.
"Charles Woodson 6" by elviskennedy is licensed under CC BY-NC-ND 2.0.